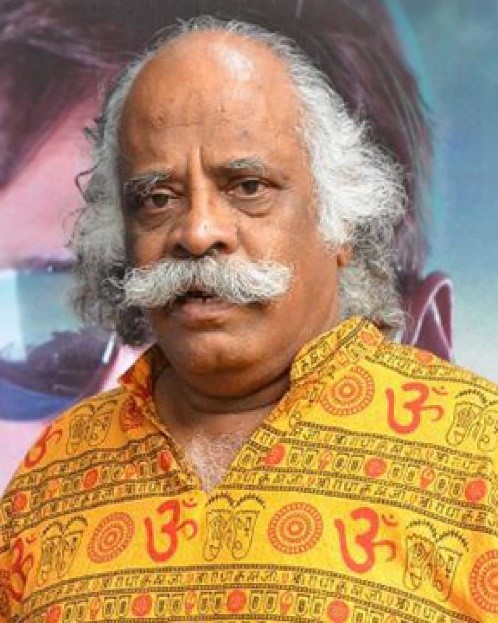 "To us all towns are our own, everyone our kin, life's good comes not from others' gifts, nor ill"
V. I. S Jayapalan quotes Kaniyan Poongundran when asked about his thoughts on accepting the invitation to be cast as 'Ausada', the Rodiya Chieftain, in Prasanna Vithanage's latest film, Gaadi; a powerful human story between the Royalty and the outcasts, the Rodiyas, set during the Kandyan Dynasty.
For Jayapalan, the Sri Lankan character actor / philosopher, playing an important role in 'Gaadi' is not merely starring in a Sinhala movie, directed by a Sinhala director. For him it is much deeper on many fronts. Firstly, he thinks this is a wonderful opportunity to act in a film directed by the renowned Sri Lankan film director Prasanna Vithanage, whose ideology on equality, peaceful co-existence and justice amongst all Sri Lankans, be it Sinhala, Tamil or Muslims is a view akin to Jayapalan's philosophy of identity politics. He thinks this is also a great opportunity for artists from different ethnicities to come together, using film as a medium to actively pursue the concept of tolerance and co-existence between all races.
He goes on to explain how the theme of Gaadi resonates well with him from a point of view of the prevailing cast and class system, and stresses the importance of overcoming this ugly social divide with love and respect for one another, just like how the story line in Gaadi unfolds. He further explains how he sees the underlying social message in Gaadi as a prevalent microcosm of the cast / class differentiation which unfortunately impacts on social disintegration as much as racial disintegration amongst Sri Lankans, big or small.
For Jayapalan, this opportunity also gives him a platform to speak on behalf of all ethnic groups that he represents as a Sri Lankan, and says he would like to continue acting in many more progressive Sri Lankan films if the opportunity arises.
As a parting message, Jayapalan wishes to highlight the importance of adapting Sinhala works of art to Tamil and vice versa to help all Sri Lankans to understand and appreciate each other's culture and philosophies better. This he feels is yet another important step in the process of active cohabitation, tolerance and acceptance amongst all Sri Lankans.
"We marvel not at the greatness of the great; still less despise we men of low estate" by Kaniyan Poongundran, seems to sum up this thought succinctly.